2nd CETIP Network discussion seminar - 3th June 2013 (gallery)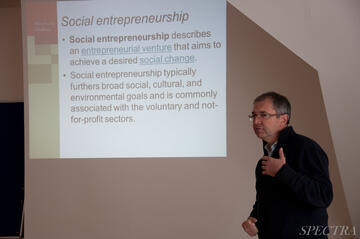 SPECTRA - Centre of Excellence and CETIP Network organized the CETIP Network discussion seminar. Key topic was "Social entrepreneurship: a new model of corporate governance? The lecture was given by Prof. Andrej Udovč, Associate professor from University of Ljubljana. The event was held on 3th June 2013 at 10.00 AM and venue was the SPECTRA, Centre of Excellence (Vazovova street 5, room 5-1).
"The governance models of the companies" is becoming more and more discussed topic in the framework of the persisting financial-economic crisis. Beside the classical capital ownership based models, also new-old models which are basing on higher level of the social justice are re-emerging and gaining on wider support. Often these models are summarized under the term social entrepreneurship. In the lecture we shall discuss the basics of the social entrepreneurship models and their applicability in different socio-economic settings.
Andrej Udovč is Associate Professor of agricultural economics and rural development at Biotechnical Faculty, University of Ljubljana. He is Head of the Chair for Agrometheorology, Agricultural land management, Agricultural economics and Rural Development. His main research interests pertain to farm management, coexistence of rural economies and high-value natural landscapes and common pool resources management. He is a member of the International Society of Ecological Economics since 2004 and he organized the 8th conference of the European Society for Ecological Economics in Ljubljana in 2009. Prof. Udovč has been member of CETIP network, participated at THEMES summer school in High Tatras (2007) and GOVERNAT project (2010). Presently he is involved in the project EcoFINDERS (2012-) and activities of VEEL. Andrej Udovč is acting as host professor at CE SPECTRA, supported by Slovak Academic Information Agency (SAIA) and project CE CESTA.