SPECTRA CE EU in the United Nation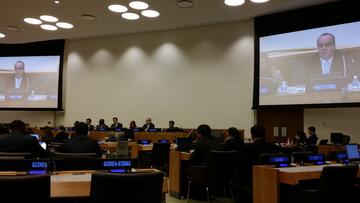 On April 27th, 016 presented prof. Maros Finka, director of the SPECTRA CE EU at the Slovak University in Bratislava in the United Nation Organization headquarter in New York his statement on report of the Policy Unit 9 Urban services and technologies. His presentation got very positive reaction in the frame of Open-ended consultative meetings to the preparation of the UNO World Conference HABITAT III held in Quito, Equator.
In the statement he presented proposals for completing the report in 8 points regarding the role of communities in safeguarding urban services and transport in the cities and regarding the role of integrative urban planning and management in the context of International Guidelines for Urban and Land-Use Planning of the UNO. The proposals was presented in the front of the auditorium of 158 UNO member states representatives and representatives of the organizations affiliated by the UNO. In the discussion were the proposal broadly supported by many statements, among others by the representatives of the USA, Russian Federation, Mexico, Brazil and European Union. Broad support has been expressed to the statement of the Policy Unit 6 Urban and Regional Planning, prof. Finka collaborated at. The conference Habitat III is the key action of the UNO defining urban development policies for next period of 15 years. These are linked to the UN-Sustainable Development Goals, Guiding principles for Cities Climate Change Actins and other official strategic documents of the UNO.