TRANSGREEN project working meeting 22nd-23rd of January 2018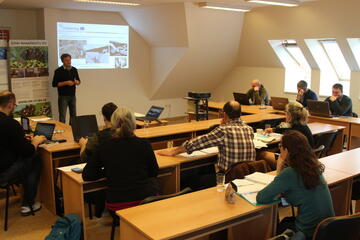 "Spectra, Centre of Excellence was during 22nd-23rd of January 2018 a venue of TRANSGREEN project working meeting. Experts from fields connected to integrated transport planning congregated in Bratislava to focus on developing a key TRANSGREEN output: the Guidelines on Integrated Transport Development. Seven countries were represented in the meeting, showing the high interest in bringing input in a document that would influence the way transport planning is done in the CEE region.
The final project output - the Guidelines on Integrated Transport Development – cannot exist without the collaborative work of expert-authors from across the region and across fields of expertise. Field experts for fauna and flora, transport infrastructure companies, spatial planners, lawyer, GIS experts, and IENE members from Austria, the Czech Republic, Greece, Hungary, Romania, Slovakia and Ukraine were present on the meeting. The meeting agenda covered editing and organizing the Guidelines and distribution of work, and a session on the HU-SK-UA pilot site. The session aimed brought updates on findings of the field work dedicated to verify ecological corridors and areas of conflicts along the planned/existing roads."