Urban Resilience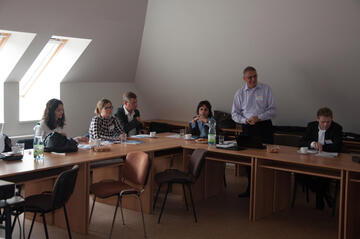 Acceleration of the spatial development has generated an increased probability of having to face negative effects of globalisation as well as EU integration. Recent economic and financial crisis highlighted this risk and created threats which were not acute some years ago. Fragile spatial and societal structures have been exposed to huge pressure originated either from international markets, unfavourable demographic prognosis, environmental hazards or other sources of risk. Urban resilience is the ability of cities and municipalities to absorb, cope and overcome these setbacks.
Spectra, Centre of Excellence, Leibniz Institute of Ecological Urban and Regional Development in Dresden (IOeR) and European Society for Ecological Economics (ESEE) organized on 18th-19th September 2014 annual Spa-ce-net conference under the headline "Empirical Evidence of Urban Resilience in Central, Eastern and South-Eastern Europe". Members of Spectra have focused on external shocks within the process of urban resilience (prof. M.Finka), case studies of urban resilience within the housing estate Petržalka (dr.Matej Jaššo), brownfields regeneration as an instrument for improvement of urban resilience (MSc. J.Szuhová) and risk management (MSc. A. Tóth). Sustainable land use management, revitalisation of mining regions, territorial cooperation and several case studies of various Central European countries were also in the spotlight. Intensive scientific discussion has yielded many valuable inputs for further research.
Young Researchers Workshop under the title "Urban Resilience and Spatial Planning – Ecologic and Economic Dimension" (co-organized by European Society for Ecological Economics) was also part of the event.