Spectra, Centre of Excellence and Slovak University of Technology (STU) took part in the MUNISS project workshop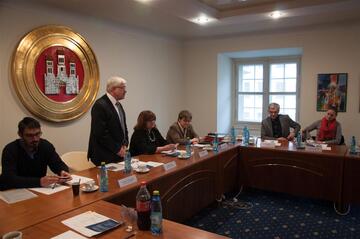 Our colleagues Assoc. Prof. Marián Zajko (Head of the Institute of Management), dr. Vladimír Ondrejička, dr. Silvia Ondrejičková and students of spatial planning took part in the MUNISS project workshop, which has been held on 23rd February in the Municipal Office of Bratislava. The event has been opened by the speech of the chief architect of City of Bratislava, dr. Ingrid Konrád. Main topic of this meeting was the international student competition dedicated to the elaboration of SMART City strategies for the cities of Bratislava and Brno. This competition has been now shifted to the creative phase represented by valuable contributions of renown experts in the field of city development.
Bratislava, the Slovak capital, prepared the main propositions for competition under the headline "The Rubik´s cube of SMART City Bratislava" with the aim to generate spatial solutions for the selected pilot area of Obchodná street. The whole competition is running since December 2016 and will be finished in June 2017. The principal goal of the MUNISS project is the interlinkage of educational process with the practical aspects of city development, the deepening of the cooperation between the cities of Bratislava and Brno as well as the improvement of the knowledge dissemination among the participating students and the experts from the field of city development through mutual consultations.